Sunglasses are more than just eye protection; they are a statement accessory that can enhance any outfit. To match your sunglasses to your outfit, consider the occasion, complement your outfit's colour palette, coordinate with your accessories, and consider your face shape. Follow these tips to show off your style with your shades.
The Importance of Pairing Sunglasses with Outfits
Sunglasses are not just a practical accessory to shield our eyes from the sun; they are a style statement. Pairing the right sunglasses with your outfit can enhance your overall look and elevate your fashion game. The right pair of sunglasses can complement your outfit, tying the whole look together and adding a touch of sophistication. On the other hand, mismatched sunglasses can disrupt the harmony of your ensemble. Understanding the importance of pairing sunglasses with outfits is crucial to achieving a polished and put-together appearance.
When choosing sunglasses, it's essential to consider the occasion and the style of your outfit. For formal events, opt for classic and elegant sunglasses that exude sophistication. On the other hand, for casual wear, you can experiment with a variety of styles, from trendy and bold to classic and timeless. By matching sunglasses with different styles, you can effortlessly enhance the overall aesthetic of your ensemble, creating a cohesive and stylish look.
Matching your sunglasses to your outfit is a great way to showcase your style. Here are some tips to help you get it right
1. Consider the occasion:
Think about the event or setting you'll be in. For formal or business events, opt for classic and sophisticated sunglasses. For casual outings, you can experiment with bolder and more playful styles.
2. Match the colour palette:
Choose sunglasses that complement the colours of your outfit. If you're wearing neutral tones, go for sunglasses with similar shades. If you're wearing a colourful outfit, you can either match the colours or go for contrasting shades to create a statement.
3. Consider the shape:
The shape of your sunglasses should also complement the shape of your face. Round sunglasses work well with square or angular faces, while square or rectangular sunglasses suit rounder faces.
4. Coordinate with your accessories:
Pay attention to the other accessories you're wearing, such as your belt, shoes, or handbag. Try to match the style or colour of your sunglasses with these accessories for a cohesive look.
Remember, the most important thing is to feel confident and comfortable in your sunglasses. Experiment with different styles and have fun showcasing your style.
Ensure that the colour matches the entire palette.
Once you've chosen your silhouette, you can choose the colour of your frames and the type of finish you want for your lenses.
Ideally, you should be able to incorporate a pair of black, transparent, or tortoise acetate frames with most of your formal or business attire as a subtle accessory that completes the appearance and adds functionality.

Your go-to colour, black, is appropriate for any day or occasion. A pair of black sunglasses will go with countless ensembles. That being said, no two black sunglasses are the same. Choose one that makes a statement amidst the sea of Persol and Ray-Bans at the event. 

Although translucent acetates are a delightful addition to any wardrobe, they do take some getting used to, as they have the potential to upset the balance of a formal or professional ensemble. Bright, translucent acetate sunglasses are ideal for casual wear, while bland hues are appropriate for formal occasions.
When it comes to metal, go for gold or silver when choosing frames, and mix things up with matte or black. Generally speaking, you shouldn't be concerned with your jewellery or the frame's colour matching. Wearing a little silver necklace with gold sunglasses is quite acceptable. Now, we advise you to attempt to match the hue if you wear bracelets and rings in addition to a chain. Excellent options are available on our site for metals to add to your collection.
It doesn't matter what colour you select for your lenses; what matters is how light or dark they are. Choose dark lenses if you are dressed up. You are doing it correctly if they are dark, regardless of whether they are blue, green, burgundy, or grey. Regarding light lenses, it's recommended to select them when the circumstance demands it to execute them well. For instance, it is appropriate to attend the event on gloomy, cloudy days or at night. If you wear these on a sunny day, your ensemble may look more put-together, but you run the danger of coming across as forced.
In a nutshell, glasses that are colourful both in frame and lens should probably be reserved for casual and sporty outfits, as they're statement pieces that will draw lots of attention.
Top Sunglass Trends for Different Outfits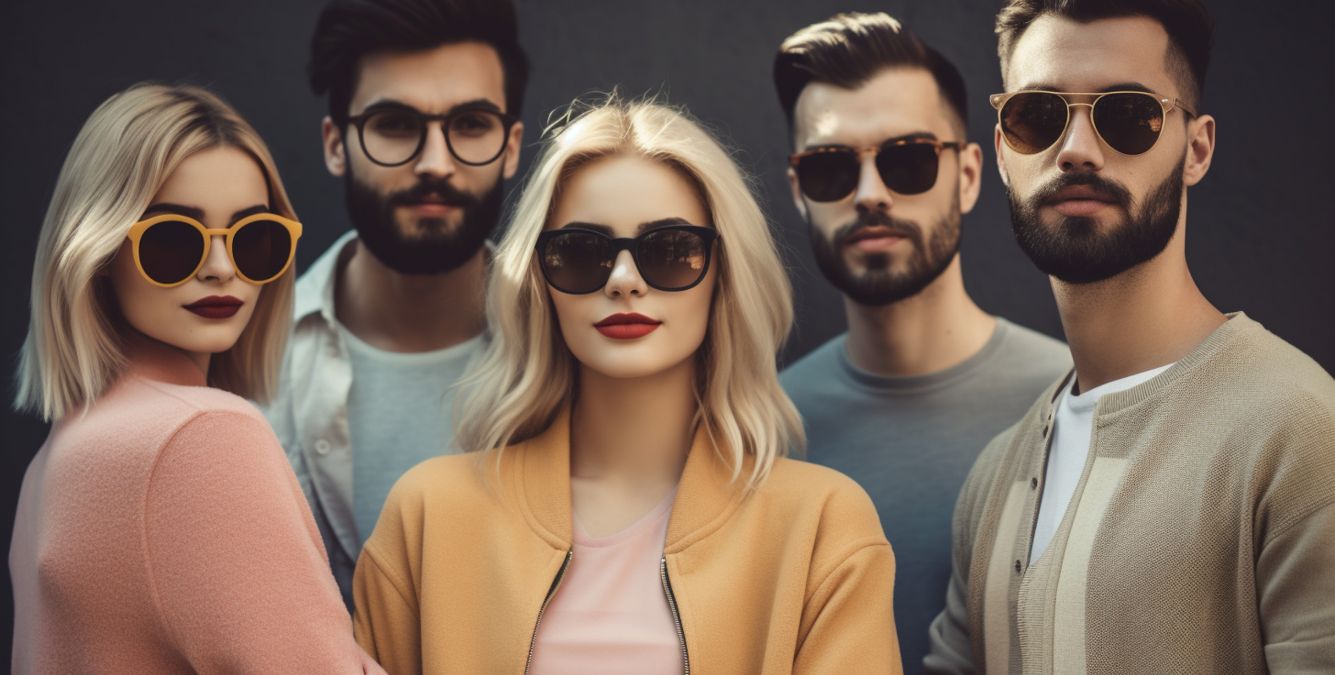 Staying abreast of the latest sunglasses trends allows you to infuse your outfits with contemporary and fashion-forward elements. From retro-inspired designs to futuristic silhouettes, the world of sunglasses is rich with diverse and dynamic trends. For formal occasions, consider classic and timeless designs such as oversized square frames, sleek metal aviators, or elegant cat-eye sunglasses for a sophisticated and refined look.

For casual wear, explore trendy sunglasses styles such as coloured lenses, geometric shapes, and bold embellishments that add a playful and fashion-forward touch to your outfits. Experimenting with the latest sunglasses trends allows you to showcase your style-savvy and fashion-forward mindset, creating looks that are both current and stylish. By incorporating top sunglasses trends into your outfits, you can stay at the forefront of fashion while expressing your style.
Having the right pair of sunglasses can enhance your overall style and make your outfit feel more complete. Our collection of sunglasses is meticulously designed and curated to offer a wide variety of shapes, colours, tints, materials, and finishes. Whether you prefer a sophisticated or classic look, we have options that will match any outfit. By including your sunglasses in the overall design of your outfit, you can achieve a cohesive and stylish look that will make a lasting impression. Explore our lineup and discover the perfect sunglasses to elevate your fashion game.
Follow Us
 Instagram  |  Pinterest